Buster's Journey brings hidden object gameplay into the third dimension
Available now on iOS and Android // The first co-production between the animal game specialists at Tivola and the hidden object experts at Tableflip Entertainment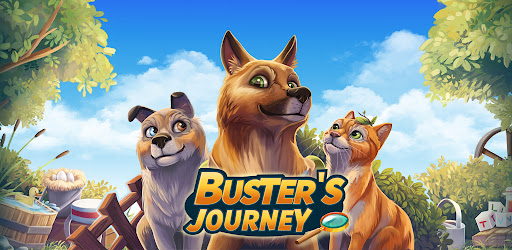 Hamburg, 28. October 2021 | The award-winning publisher Tivola launches their new mobile game Buster's Journey today. In the new title from the Hamburg publisher, players help the rescue dog Buster on its daily rescue missions by tracking down the required objects on-screen. Buster's Journey is now available to download for free on the Apple App Store and Google Play. Buster's Journey is a co-production of Tivola and Tableflip Entertainment, both of which are part of the Jumpgate Group.
Buster's Journey Trailer
"We are extremely proud of Buster's Journey that has origininally been created by our sister company Tableflip. Busters Journey brings the popular genre of hidden object games to a sophisticated 3D environment for the first time. This is how we've created an even more lovingly designed world for our players," says Hendrik Peeters,
About the game: Away from the rescue missions, players have to take care of Buster and provide him with enough food and water to stay healthy. They can also teach him new tricks and feats. If Buster is rewarded with treats at the end of each level, his energy levels up even more quickly. And Buster desperately needs it! Players will meet many different animals that need help in Buster's Journey. Among them are cats, horses, as well as other dogs. Before they can be saved, Buster has to find the hidden objects, such as flower pots or ladders. There might be objects that are hard to find. Then, just help Buster by using one of the numerous boosters.
Core features of Buster's Journey:
Funny rescue missions
Numerous levels to discover
Challenging tasks and well-hidden objects
Many different animals such as cats, dogs and horses
Cute designed 3D worlds
Boosters to help Buster with challenges that are too difficult
Train Buster and teach him tricks
Screenshot Gallery
About Tivola Games
Tivola is an international publisher and developer of mobile games based in Hamburg. We're focused on apps with animals. In our games, players care for cats, train dogs, ride horses. Even dance with a hippo.
Founded in 1995, Tivola started out as a publisher of computer games for children, serving mainly the German market with local brands. Creating both entertaining and educational content, Tivola has won almost every German award in the field of childrens' software including the "Deutscher Computerspielpreis" and "Deutscher Entwicklerpreis".
After turning to mobile games, Tivola is now reaching a much bigger and far more international audience, animal fans and game lovers from all over the world and of every age. Today, our biggest new games "DogHotel" and "CatHotel" continue the ongoing success of the flagships "PetWorld" and "HorseWorld" – and there's even more to come!