Rogue Command Gets a Demo with Brand New Content for Steam Next Fest!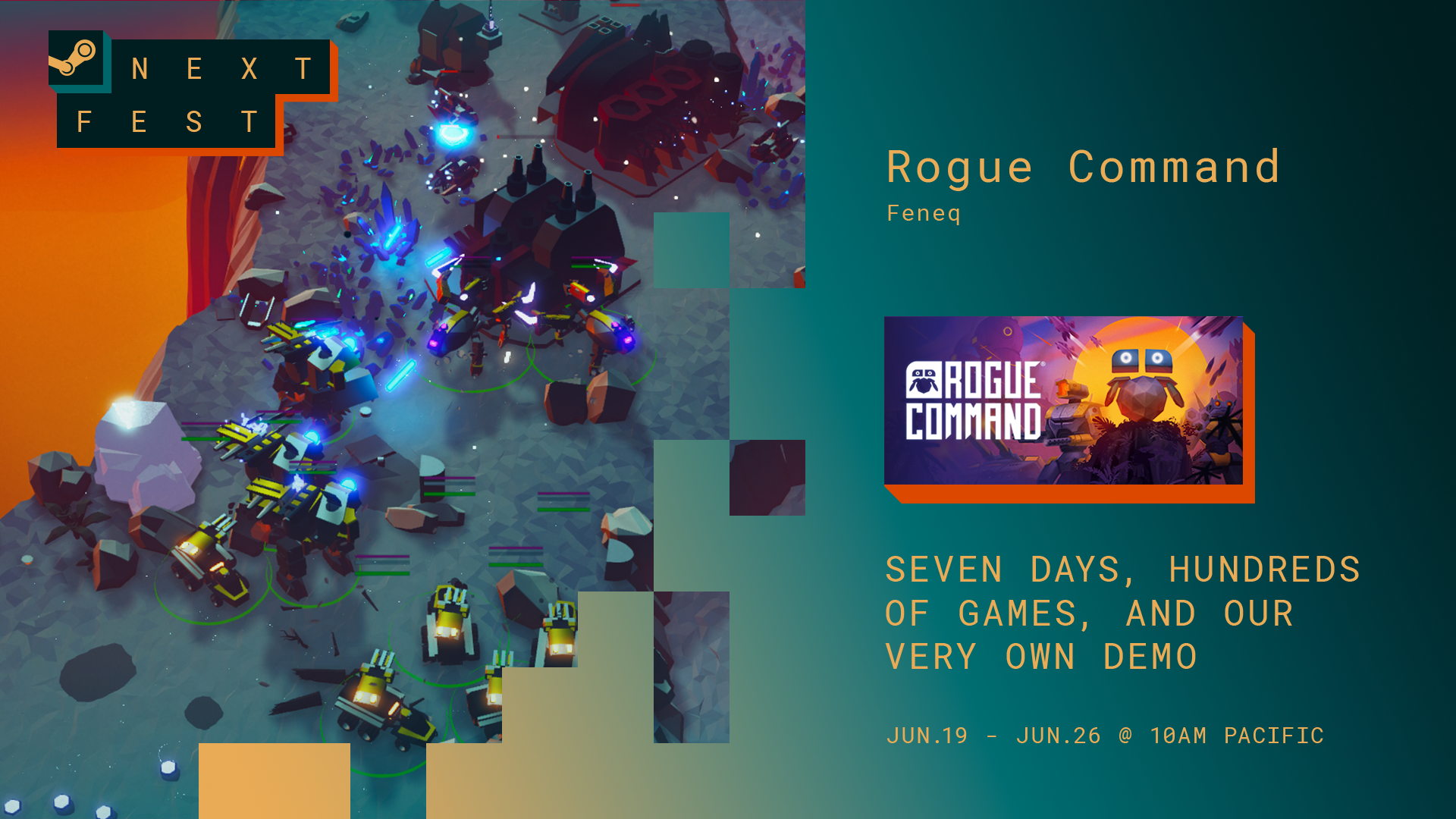 Frankfurt, Germany, June 19 2023 | The developer duo feneq released a brand new update for the demo of Rogue Command, a fusion of classics from the real-time strategy (RTS) and roguelike genres. ​ 
Just in time for Steam Next Fest, starting today, on June 19 at 10:00 AM Pacific, the huge demo update will be available on Steam. Get ready for the finest RTS action in a modern style in Rogue Command!
About the new demo for Rogue Command
Indie developer feneq, who have been working on the game for four years, have a new update ready, giving a deeper look into the enormous potential of this upcoming roguelike RTS. 
The demo features a completely new AI system. Thanks to a new map generation comes a lot more variety to the game. In addition, players await graphical improvements and an updated user interface. Rogue Command's new research system adds a whole new layer to the customization of the players build. The addition of single use drops allows players to shift the tide of battle in perilous situations.
The update also includes:
5 new units, (bringing the demo total to 25)
7 new upgrades (a total of 26)
8 new Hacks (a total of 35)
3 new biomes
new tutorial
secrets that might hide on the map
A year ago, the first demo version of Rogue Command made its debut. Since then it has garnered an amount of positive buzz. Rogue Command was part of many events and live streams of well-known content creators, and the title was also covered in major international gaming magazines.
What is Rogue Command all about?
In this exciting indie title, players must construct and fortify their base, collect resources, and use wacky combos that help them out of trouble again and again in the entertaining skirmishes. However, each run on the procedurally generated battlefields is unique and requires a bespoke and sophisticated strategy to take down the enemy robo-armies.
About feneq
feneq is a small indie team from near Frankfurt am Main. The founders, Mario Imhof and Martin Reichard, have already gained many years of experience in a medium-sized games company, but are now fully committed to the development of their self-financed lifeblood project Rogue Command. The title Rogue Command is a classic real-time strategy game that integrates modern roguelike elements.